"Vibe" Glowing Charge Cable With Breathable Light
---
Your charge cable can breathe!Again!CC Vibe Collection-Bright Glowing Gradient Charge Cable is on!
ABOUT THE ITEM:
Function: fast charging + data transfer
Material: Zinc Alloy + Optical Fiber
Interface: USB-Type-C (66w full protocol fast charge); Typ-C-Iphone (27W PD, IOS); USB-Iphone (12W IOS); C to C (100w PD EMARK tablet)
Length: 3.3ft (1m)
Note: The RGB effect will not by controlled and will not sync in the 2 ends so it will have the "faded" effects.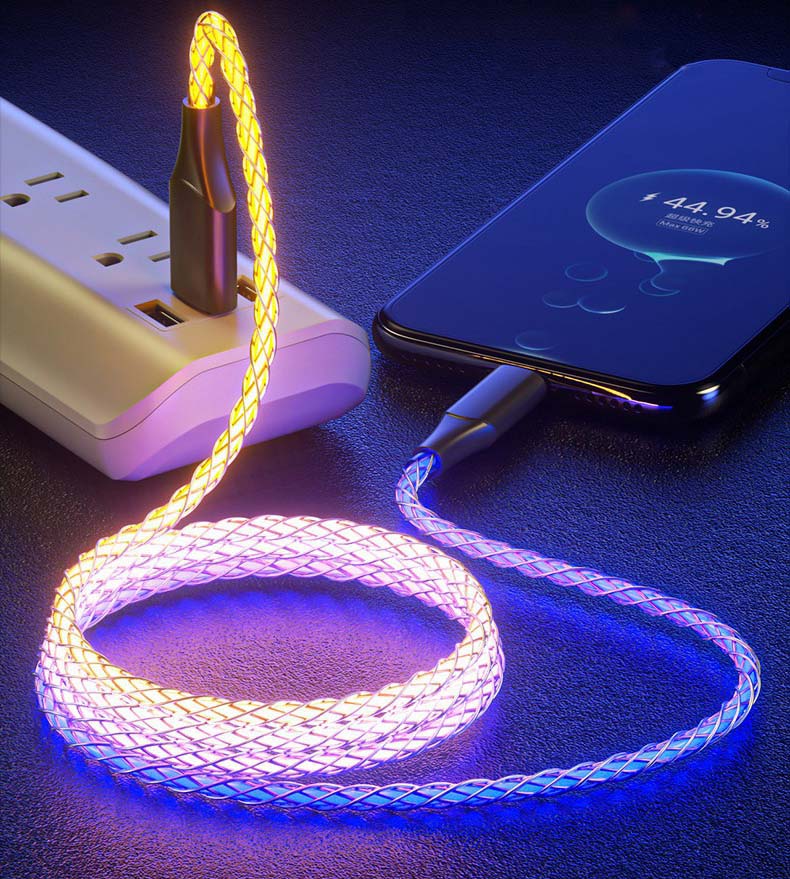 The soft light-in line with the sensitivity of the human eye, mild and not dazzling.
480Mbps charging and transfer rate, and it is efficient and time-saving to transfer large files in seconds, it is easy to work.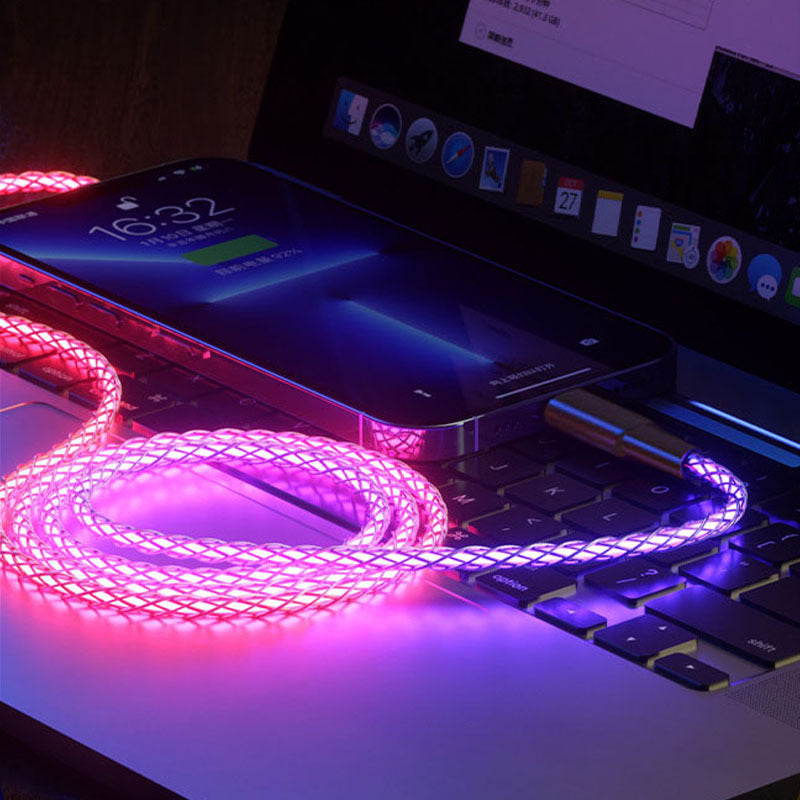 DETAILS: 
Pure copper braided body-No knots and no tangles
Zinc alloy housing-Durable
Built-in E-marker chip-Safe and fast charging;

Another Highlight: Can be Car ambient light-Support car carplay.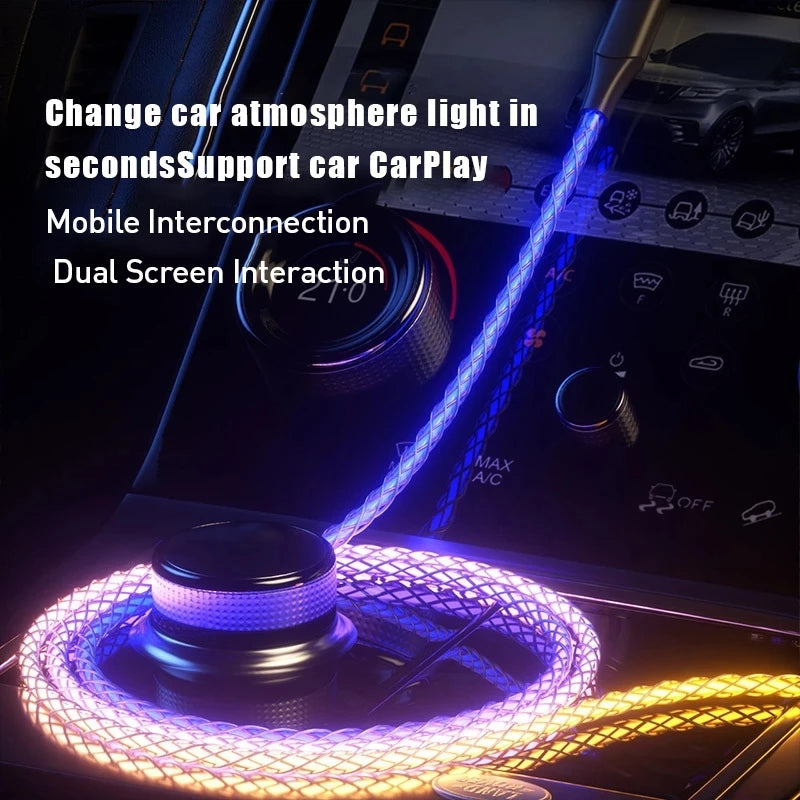 NOTE: To achieve the effect of fast charging, it needs to be used together with the fast charging adapter, and your device must support fast charging
PURCHASE GUIDE (Charging interface of equipment)
Type-C
Galaxy S series, Samsung Galaxy Note series, Samsung Galaxy Fold  series, Samsung Galaxy A series, Samsung W series.
HUAWEI Mate Series: Mate40, Mate50, Mate Xs2. HUAWEI P Series: P50E, P50, P50Pro, P50pocket.
HUAWEI nova Series: Nova8 SE, Nova9 SE, NOVA9,NOVA9 Pro. HONOR, XIAOMI, MEIZU, Mackbook
Samsung Galaxy A81/ A51 /A11,Samsung Galaxy S10/ S9 /S8 /S20 etc.Samsung Galax Note 20/10/9 /8, PS5 Controller
HUAWEI P50E, Nova 9 SE, Mate 40E Pro, nova 8 Pro, Mi Max 2, Mi 6, Mi Note3
(Connects USB-C enabled devices (MacBook, google Pixel, Galaxy Note 7,etc.) type-C devices (laptops, hard drives, power banks, wall/car chargers, etc.)
IPhone (Lightning)
Laptop, Personal Computer, Tablet, Smartphone.IPhone, IPhone 3G, IPhone 3GS, IPhone 4, IPhone 5, IPhone 5s, IPhone 5c, IPhone se, IPhone 6, IPhone 6s, IPhone 6 puls, IPhone 6s puls, IPhone 7, IPhone 7 puls, IPhone 8, IPhone 8 Puls, IPhone X, IPhone XS, IPhone XS Max, IPhone XR, IPhone11, IPhone11 Pro, IPhone11 ProMax, IPhone SE2, IPhone12 Mini, IPhone12, IPhone12 Pro, IPhone12 ProMax, IPhone13 Mini, IPhone13, IPhone13 Pro, IPhone13 ProMax, IPhone14, IPhone Pro, IPhone14 Promax, All series airpods, ipad.
Type-C to Type-C (C TO C)
Connect USB Type-C devices such as MacBook, Chromebook Pixel, Galaxy Note 7 to other Type-C devices like a smartphone, charger or multi-port adapter. IPhone and other types of mobile phones with type-c charging head.
Micro-USB
Galaxy S7 Edge/S7/S6 Edge/S6/S4/S3; Note 5/Note 4/Note3/J3/J7;Tab 4/Tab 3/Tab A/Tab E/Tab S2/Tab S/Tab Pro; G4/G4 Stylus/G3/G3 Stylus/G2/V10/K10; MP3 Players/Portable Charger; Other Micro USB devices

Compatible with all devices such as mobile phones and computers with micro-usb interface.
IPhone - Type-C (I

Phone PD

)
Tablet, Laptop, Smartphone, Personal Computer, Power Bank. IPhone 14/ 14 plus /14 Pro /14 Pro Max; IPhone 13/ 13 Mini /13 Pro /13 Pro Max; IPhone 12/ 12 Mini /12 Pro /12 Pro Max; IPhone 11 /11 Pro /11 Pro Max; IPhone XS Max /XS /XR /X /8 Plus /8; IPad Pro 12.9" gen1 /Pro 10.5"/ Pro 9.7" /Air3 10.5" /mini5 7.9" /mini6. All series IPhone, Mac airpods, Ipad. (The adapter is type-C)
Nice but not perfect
I bought two cables. This one and a chubby cable. Chubby cable is perfect, does everything I need it to do. This one will not charge my phone. I've plugged it into multiple phones, multiple outlets, charging blocks, etc. and it will not connect. It does power my keyboard though, and that's what I'll use it for from now on.
When I ran into this problem, I contacted customer service and they were very helpful. They sent me a replacement cable, but since both of them behave the same way the only thing I can conclude is that they are not suitable to charge your devices.